This brewer has been replaced with the Starbucks® Serenade brewer, click here for more information
The I-Cup is the only Starbucks® brewer that grinds and brews fresh one cup of whole bean coffee in less than one minute. And American Coffee Services is the best choice for businesses in Cleveland and Northern Ohio who want to take advantage of this technology!
The intuitive digital interface design makes the premium experience of Starbucks® more interactive and personalized.
In addition, the new three bean hopper allows your employees or guests to choose just the coffee they prefer.
The Starbucks Interactive Cup® Digital Brewer is designed for high volume applications, typically an office with 50 or more employees or a high demand hotel / lodging environment. Depending on your needs, you can brew by the cup or by the carafe!
If you wish to enjoy the Starbucks I-Cup® Digital Brewer in your workplace (Cleveland, Ohio only), contact us and we can deliver an I-Cup brewer directly to your establishment.
We even will install and maintain the brewer for FREE.
And with our office coffee delivery services, your workplace will always be fully stocked with your favorite coffee brands, blends and products!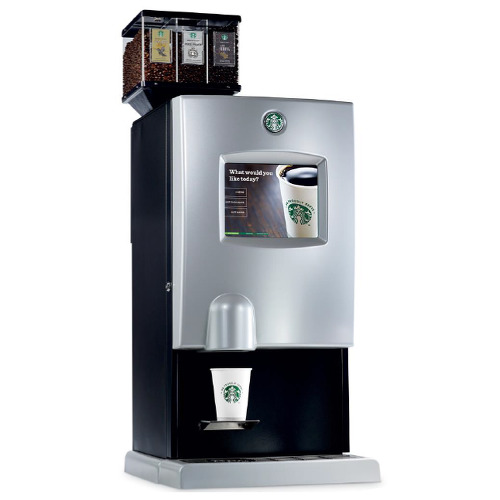 Starbucks® Interactive Cup Brewer
Features include:
NEW Interactive touch screen
NEW Three bean hopper
From whole bean to fresh-brewed cup in less than a minute
Brew by the cup or by the carafe
Premium hot chocolate
Specifications:
Dimensions: 16"W x 22.5"D x 42"H
Electrical: 120v, 60hz, 12amps

Contact us for more information about how you can enjoy Starbucks® in your workplace.
Contact Us