Get great tasting Hot and Cold Filtered Water for your Workplace
Our bottle-less filtered water dispensers combine clean, modern designs with advanced cooling technology, giving you great tasting chilled and hot water. Filtered coolers connect directly to your water supply eliminating the need for changing heavy bottles. The use of a high quality filtering system gives you great tasting, ice cold water. Tower and counter-top water coolers are available. Our water cooler service features FREE installation in your workplace! We provide regularly scheduled preventative maintenance and filter changes to keep your water cooler in top condition.
---
Bottled Water vs Filtered Water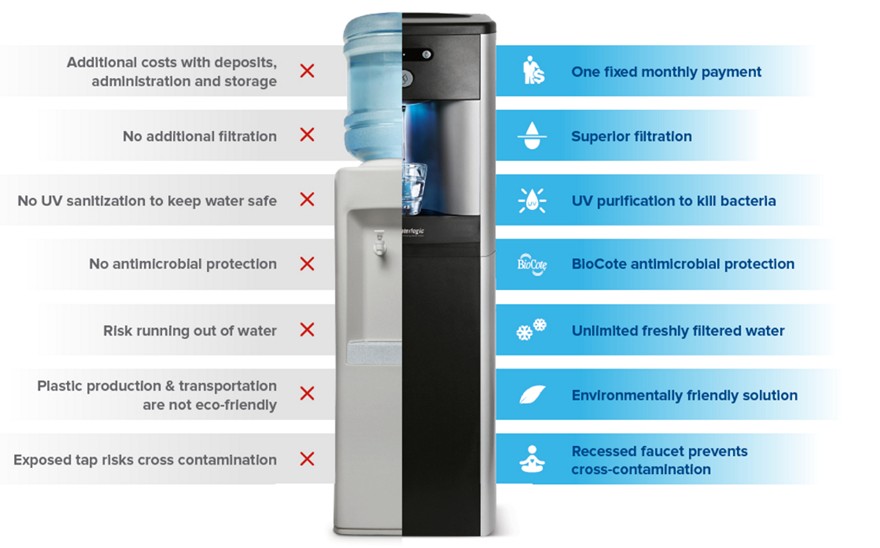 All Waterlogic™ coolers feature antimicrobial technology that is proven to be effective against a wide range of microbes such as odor causing and staining bacteria, mold and fungus. BioCote® reduces microbes by up to 99.99%. The WL250 series adds in-tank ultraviolet light sanitization to reduce bacterial growth and guarantee fresh clean filtered water. Contact us to find out how you can start enjoying great tasting water in your workplace.
CONTACT US FOR MORE INFORMATION
---
---
Here are a few reasons to go bottle-less:
Cold and Hot filtered water ready to go anytime
Less expensive than bottled water
No heavy 5 gallon bottles to carry and store
Commercial grade for the office and workplace.
Waterlogic WL250 / WL100 are Energy Star Certified
Recessed faucets to prevent contamination
Tower and table top filtered water dispensers available.
UV sanitization protection (WL250 Models)