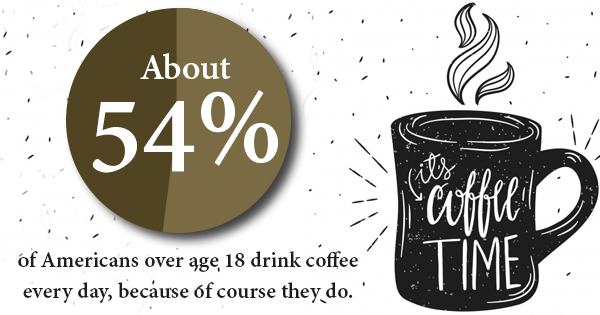 About 54% of Americans over age 18 drink coffee every day. But what many people fail to realize is that there are countless benefits that come with drinking a cup o' joe, especially at work. Here's part one of our full guide that will explore some of the main advantages to providing and drinking coffee and tea at work.
Productivity
You probably saw this coming, but it's completely true. In fact, according to the FDA, the caffeine in coffee is absorbed and circulated within 30 minutes to an hour; its effect can last up to six hours. Coffee enhances the energy levels of your brain, improving concentration and memory retention, leading to better cognitive performance. Not just that, but studies show that 200 mg of caffeine can help you identify words and phrases faster than you could do without coffee. This means that employees on tight deadlines are bound to work their best after having a bit of caffeine. And as an employer, you have nothing to lose and everything to gain by making it available on a daily basis.
Stress-Relief
Many non-coffee drinkers seem to think that those who drink it get the jitters, but drinking coffee is known to relieve some of the never-ending workplace stress we experience on a day-to-day basis. There's a reason behind the expression, 'taking a coffee break' -- it centers the mind and helps the employee return to their desk, eager to accomplish and make the most of the rest of their day.
While it's important to understand the many benefits that come with drinking coffee at work, it's also important to know that it does, like many great things in life, have its limits. Experts recommend drinking no more than about 400mg of caffeine, as this is what is considered 'safe.' But many everyday coffee drinkers know their limits and can manage them accordingly.

Ultimately, understanding the benefits of offering and enjoying coffee at work is the key to keeping employees productive and making the most of every day. Keep an eye out for the next post, where we'll discuss some more proven advantages of workplace coffee and tea. For more information about coffee services for business, contact American Coffee Services.