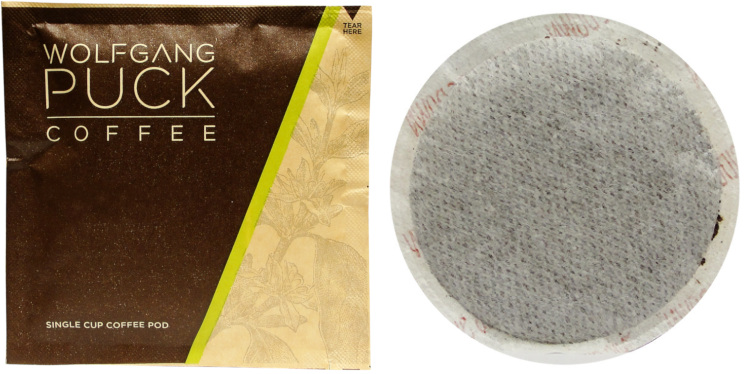 Single cup coffee pods that are environmentally friendly, less expensive and taste great.
by Coffee Guy • November 06, 2018
---
While single cup coffee brewing options have been around for many years, there has not been a solution that seriously addresses the environmental issue of waste...or has there?
Back in the early 2000's during the explosive growth in the single cup coffee segment primarily led by brands like Keurig and Tassimo there was another technology that was making it's way on the scene. A technology that many probably don't know about. While Keurig had named their proprietary single cup capsule a "K-cup" and Tassimo had the "T-Disc", another single cup product was slowly gaining popularity. It was simply referred to as the "coffee pod" and it differed from the Keurig and Tassimo approach in several ways.
Keurig and Tassimo had total control of their product, both the brewer and the coffee capsule since their brewers would only work with their proprietary capsules. While there were some distinctions in coffee pod sizes and compatibility between early brewers like the Melitta One and Senseo brewers, most coffee pods are not tied to a specific brewer, as a matter of fact some pod brewers had no coffee brand association. Equipment manufacturers began to produce coffee pod brewers that could be used with any brand of coffee pods. This included Mr. Coffee, Bunn, Grindmaster, Suncana, Newco and others. Many national coffee brands also began producing universal coffee pods. You could find Folgers, Maxwell House and many other less know roasters like JavaOne and Baronet Coffee. Melitta, who had their own unique sized pod for the Melitta One brewer even began to produce a Universal coffee pod to fit in other brand brewers.
Keurig K-cups and Tassimo T-Discs are made of a plastic material with a foil lid, while people began drinking more and more coffee brewed in their Keurig or Tassimo they began to take notice of the waste produced by the millions of spent plastic capsules. Environmentally conscious people began asking for a solution. Coffee pods are simply made out of filter paper, similar to a tea bag. They are biodegradable, many coffee pods produced today are fully compostable, even the packaging.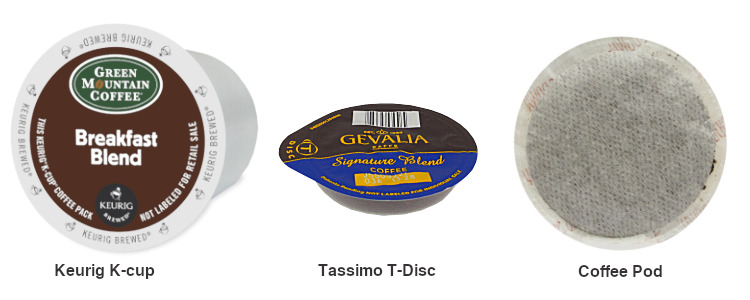 So what happened? Why didn't everyone jump on the coffee pod bandwagon?
Product awareness was minimal for coffee pods. Before getting into the consumer market, Keurig had already began installing commercial single cup K-cup brewers in the office coffee segment. People who had a Keurig in their office loved the high quality coffee and flavor options and naturally wanted one in their home. No commercial coffee pod brewer existed yet for the office environment and marketing in retail was minor. Keurig / Green Mountain had incredible marketing campaigns and was able to captured a huge section of the single cup coffee segment before most people knew what a coffee pod was. This combined with a slow development of reliable commercial coffee pod brewers placed the coffee pod out of sight, but not gone. People saw the value in the coffee pod and slowly as pod brewing equipment improved so did coffee options and people looking for them.
Today coffee pods and coffee pod brewers have been on the rise. People looking for Eco-friendly alternative solutions have rediscovered the coffee pod. New reliable equipment from Bunn and Newco have made pods a great choice for the office and home. More coffee brands are available in pods than ever before. Today you can get pods from JavaOne, Baronet, Reunion Island, Wolfgang Puck, White Bear and many more. It's now possible to enjoy a great single cup of coffee that is environmentally friendly and typically costs less.
Keurig has taken notice of the rise in popularity of the coffee pod and has even changed the name of their capsule, the "K-cup" and now call it a coffee pod. An article published in the Washington Post claims that Keurig is planning on making changes to the K-cup that will make them more lucrative to recyclers by 2020.
Tassimo has the following statement on the Tassimodirect.com website: "Used T DISCs are suitable for energy recovery through incineration. Kraft is continuously working to reduce the environmental impact of its products, including TASSIMO products."
---